In this post, we will outline all the conditions of participating in subscribe and save, how to set it up on your account, and cover some "good-to-know" information as it relates to the program!
If you're selling or planning on selling product in a category where customers have a high consumption rate, it's time to consider Subscribe and Save by Amazon. Some examples of categories that are eligible include: Grocery and Gourmet Food, Personal Care, Health & Beauty, Diapers, Baby Food and even Pet Products. Subscribe and Save is an option Amazon gives customers to get regular, scheduled shipments of products they love. In return the customer will receive a discount ranging from 5% – 20% on their regular orders.
How Subscribe and Save Works for Buyers: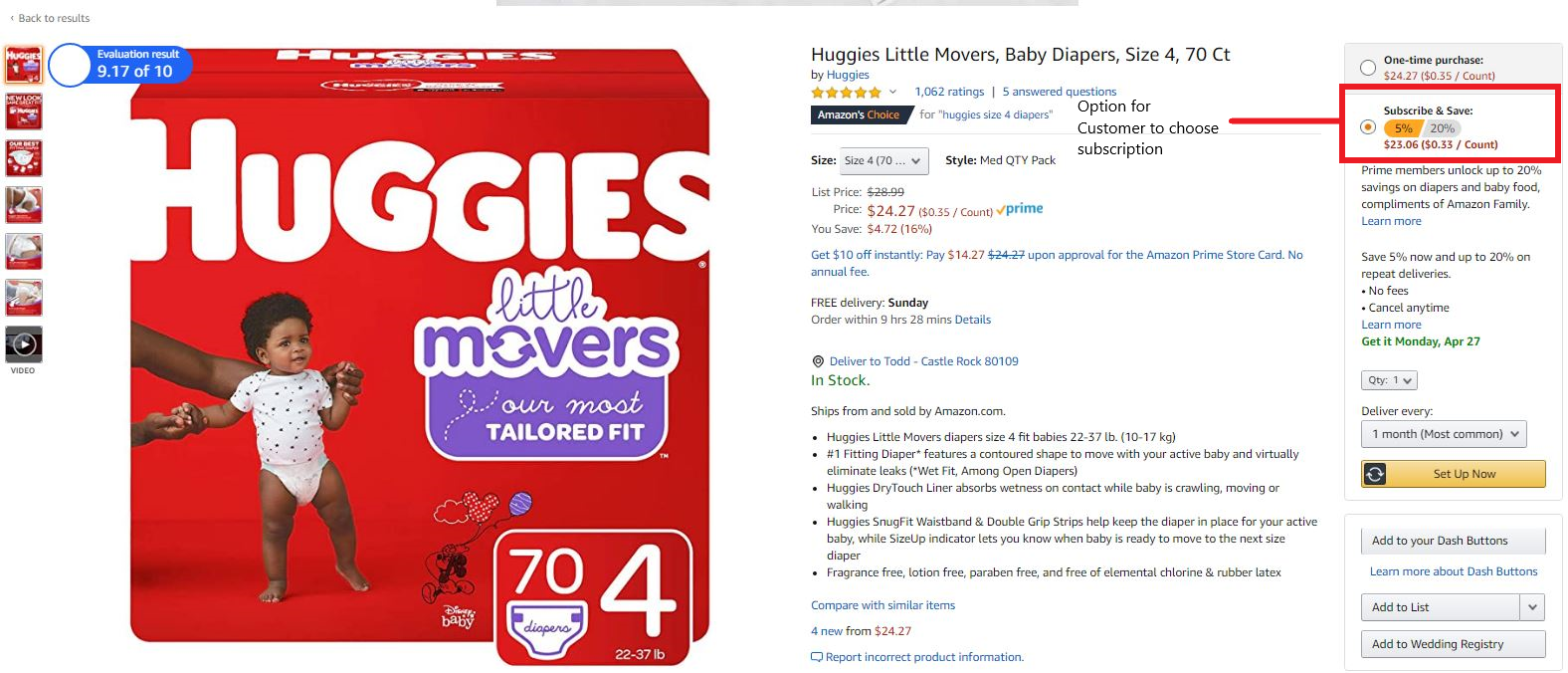 HELPFUL HINTS FOR CUSTOMERS SUBSCRIBING TO PRODUCTS:
The prices of your subscription items are subject to change at anytime and frequently do 🙂

You can skip a delivery if it's not needed. This can be done from your manage subscriptions section. Just click the "Skip" link

Add more products, save more money. If you subscribe to 5 or more products you can save an additional 10-15% per item

Cancel at anytime with no risk or cost
How Do I Set Up Subscribe and Save on My Items?
So…you're interested in generating consistent orders, and hooking customers on your products. You're ready to set up subscribe and save for your offers, and we are here to walk you through the process. Follow the steps below to start engaging with customers on a regular basis.
STEP 2: NAVIGATE TO SETTINGS IN THE TOP RIGHT, AND SELECT "FULFILLMENT BY AMAZON" SHOWN IN THE RED BOX BELOW
STEP 3: ONCE ON THE "FULFILLMENT BY AMAZON" SCREEN, LOCATE THE SECTION TITLED "SUBSCRIPTION SETTINGS" WHICH IS THE 7TH OPTION UP FROM THE BOTTOM OF THE PAGE. YOU CAN ALSO USE THE FIND FEATURE ON THE PAGE BY HOLDING CTRL + F ON YOUR KEYBOARD THEN TYPING "SUBSCRIPTION SETTINGS". THIS WILL AUTOMATICALLY HIGHLIGHT THE SECTION FOR YOU TO FIND QUICKLY.
STEP 4: ONCE YOU LOCATE THE SUBSCRIPTION SETTINGS CLICK ON "MANAGE SUBSCRIBE & SAVE SETTINGS AND PRODUCTS. SHOWN IN THE RED BOX BELOW.
STEP 5: MANAGE WHICH PRODUCTS YOU'D LIKE TO ENROLL IN THE SUBSCRIBE & SAVE PROGRAM. ON THIS SCREEN YOU'LL BE ABLE TO FILTER THE STATUS AND ALSO TAKE ACTIONS ON THE LEVEL OF DISCOUNT YOU'D LIKE TO OFFER. SHOWN IN THE IMAGE BELOW.
STEP 6: WATCH YOUR SALES INCREASE!
HELPFUL HINTS FOR SELLERS SETTING UP SUBSCRIBE AND SAVE:
The discount is funded by you, the seller

You can choose which products to enroll

Subscribe and Save offers must be FBA (fulfilled by Amazon)

Subscribe and Save is a way to get customers to purchase your products consistently on Amazon and not through retail, so orders are typically higher margin
CONTACT CLEARSIGHT CONSULTING TODAY TO ASK MORE QUESTIONS ABOUT THE COSTS OF SELLING PRODUCT ON AMAZON. FEEL FREE TO FILL OUT THE FORM BELOW, AND ONE OF OUR MARKETPLACE SPECIALISTS WILL GET IN CONTACT WITH YOU WITHIN 24 HOURS DURING THE WEEK AND 48 HOURS ON THE WEEKEND. THANKS!